最近对日本的IM市场稍微起了点兴趣,近来受到不少教诲,知道要做自己擅长的事情,而不是胡子眉毛一把抓。所以思来想去就决定自己好好的研究一下日本的IM市场,因为日语这个天然屏障竖在那里多少还是能减缓IMer的脚步的。
报告原文:http://www.slideshare.net/ginzametrics/seo-in-japan-the-definitive-guide-to-seo-and-inbound-marketing-webinar [可能需要备梯子]。虽然报告是去年的,但是其中的内容还是很有作用的。本来是打算自己留着看的,所以没有进行翻译整理,希望观者诸君各取所需。
Google和Yahoo占据日本92%的搜索引擎市场。
移动搜索量已经超过了桌面搜索。
"Call to Search"
60%的用户表示看到过
32%的用户表示相应过
What it Takes to Succeed in JP
1. Domain & Hosting Considerations
Domain hosting is best served locally.
和中国不同,日本的IDN相当的流行。作为EMD获得高权重的现象也比较普遍。
.jp域名也会获得更多的权重。
2. To Localize or Not to Localize
Successful ocalization in Japan relies on two overarching themes: Emotion& Relevancy.
本土化,例子居然是hp和akb48,还有奈奈等。说起来度娘也是这样的产物。
所以主页的风格也会与传统的美式风格不同。
3. Keyword Strategy
汉字、平假、片假、罗马音照成关键词分裂
Yahoo甚至会对全半角进行区分排名
日本人习惯于使用动词的不定式进行搜索,难以让关键词显得自然
4. On-Page Fundamentals
页面优化依然重要
On-page HTML Elements(H1S, Alts, Anchor Text, etc.)
Page Speed/ Load Times
Keyword-rich Title Tages
Fresh content
Quality Copy
Use Html Content
5. Content
more is better:Jpapanese users expect to see lots of information. The Wetern meme of "less is more" doesn't work in Japan, so don't be afraid to load up to text-heavy details.
Write content specifically for the Japanese user, Don't just translate existing English content – it won't resonte with the user as weill, and you'll miss keyword density opportunities.
Highlight Local Management: Trust is a huge part of the online experience in Japan, and demonstrating commitment to the market by highlighting Japanese management can go a long way in cementing that truse.
Localize Forms: Remeber, date formating, credit card input fields, name fields etc. are all formed diffenently in Japan.
About Us Pages(について) are offen among the most viewd pages on brand sites, especially foreign brands. Put some love to thses pages.
Stock Images: Avoid the typical multiracial corporate imagery common in the West – This is Japan, show Japanese people with your brand and products.
Above all else, do not just use Google Translate! Users will know. User will disapprove.
6. Social
Social media in Japan is both highly develope and highly stratified.
日本的社交网络高度发达,且碎片化严重: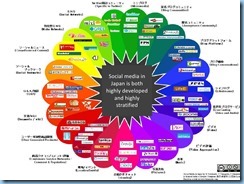 StereoType – 相对的你很难看到像是其他国家一样的恶评出现。
A Nation of Bloggers: With Over a million blog entries a month, the Japanese are the world's most active bloggers. – 这有可能导致极度发达的Blog产业链导致主机产商没有市场。
mixi is slowly dying: For almost a decade, mixi had been Japan's bigges SNS by a wide margin, but the past few years have seen Facebook and Twitter catch up and eclipse the honggrown network. – 日本年轻人群体显然在迅速的抛弃本土的mixi而是更多的奔向了FB和Twitter。
FB、Twitter和Mixi显然是主要的社交流量阵地,但是由于Mixi是封闭的系统,所以没有任何SEO价值。
Yahoo!知识袋可以很好的留下品牌印象也可以用于外链。
像是Glee和Mobage这样的社交游戏网站相当的流行,如果你能搞得动的话做一款社交游戏来引流和建立品牌是非常好的。
7. Linking
外链建设应当集中于日本本土的网站,来自非日本网站的外链的权重效果很差。
使用日文作为锚文本,而不是使用英文。
Tip: Place lins with JP anchor text in the footers of other PoS sites.
Pay Per Post backlinking programs are pupular in Japan and can be resonably effective at boosting ranking for a low investment.
PPP programs also drive solid traffic, especcially those taht run on top blog networks like Ameblo.
Tip: PPP programs work great with limited-time campaigns.
Don't Expect Transparency
Tip: If you want to fully undertake a complete SEO program in Japan, accept that lin building providers will not provide the level of transparencey you're likely used to seeing in other markets. Shoganai yo ne.
Sample:
Light and fast loading
Editable content
Localized domain
Great title & header tags
Localized site template
Great keyord targeting
Localized domain
Lengthy content
Great title & header tags
Localized site template
High quality of content
Social signal integration
Great interlinking
Targeted keywords
Clean & light pages
Final Thoughts
1. Go Local Whenever Possible: whether domain hosting, localizing templates and other asses, researching keywords, developing content or building links, look for a Japanese solution.
2. Trust Your Guys on the Ground: who better to help provide a local solution than your Japanese team? We've seen man foreign companies fail in their digital endeavors becaose Global refuse to listen to Local.
3. Know Your Audience: you may have a clear idea in your head about your target audience in Japan, but understand that there will be cultural diffences in user tendencies and expectations; speak to your Japanese audience.
One last time: DO NOT USE GOOGLE TRANSLATE!